Senior Dog Wellness Health Care
Emphasizing Your Dog's Wellness Care Throughout Their Life Will Significantly Increase Their Lifespan.
When a dog reaches his or her "senior" years, normal changes take place and diseases may follow that can often affect their overall health, well-being and comfort. Many conditions, when detected early and treated properly, can be prevented from progressing into more serious and sometimes life threatening illnesses. We recommend bi-annual senior wellness exams so that we may monitor your senior dog's health before serious problems develop which may negatively affect your dog's quality of life. We encourage our clients to take an active role in the prevention of ailments associated with the aging process that may affect their senior dog.
Our bi-annual comprehensive senior canine wellness exam includes:
An in-depth, "nose to tail" examination
Dental evaluation
Comprehensive diagnostic testing that may include a senior dog blood profile analysis (blood count and blood chemistry panel), urine and fecal analysis, x-rays, blood and eye pressure testing.
Vaccinations
Parasite testing and prevention
Heartworm testing and prevention
Weight assessment, nutrition and dietary advice
Additional testing as may be indicated
If you notice any of the following symptoms, we recommend you schedule an appointment to discuss them with our veterinarian:
Weight loss
Decrease in appetite
Excess urination
Excess drinking
Reduced exercise, reluctance to move, run, jump, etc.
Perception of pain when your pet moves or is handled
Any vomiting or diarrhea
Change in urination, infrequent urination or lack of bowel movements
New lumps or bumps
Change in dog's energy level
Never Give Medication to a Senior Dog Unless It Was Prescribed By A Veterinarian
Most Importantly, NEVER GIVE medications without direct approval from your veterinarian. Many products that are deemed safe for humans are extremely toxic to pets and can prove to be fatal. If in doubt — Call Our Office first and ask - 973-831-2426
Cat Friendly Practice
In the United States, there are millions more owned cats than owned dogs, yet cats visit veterinarians less frequently than dogs. A major reason is that it is very stressful to take cats to the veterinary practice and often owners believe their cat doesn't need routine check-ups for wellness and preventive care. The Cat Friendly Practice® (CFP) program, created by expert feline practitioners, provides a solution to this trend and provides an opportunity for veterinary practices to elevate care for cats and reduce the stress during the visit.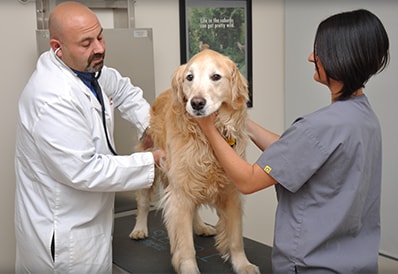 ---
---