Kitten Health Care
Congratulations on your New Kitten! We Can't Wait to Meet Your New Furry Family Member.
We look forward to welcoming your new kitten to our Tri-County Animal Hospital family. As a Cat Friendly Practice, we have embraced the higher standards of care needed to look after feline family members. We have created a cat-friendly environment within our hospital, where cats do not come into contact with dogs and cats are treated in a soothing, calm manner. A cat friendly hospital means less stress to both you and your kitten when visiting our hospital.
Please bring your new kitten to Tri-County Animal Hospital for a check-up as early as possible. The comprehensive kitten exam is an important step to ensure your kitten is healthy and will allow us to detect any potential health issues early. We will make sure your kitten receives a good healthy start in life through comprehensive kitten exams, vaccinations, parasite protection, nutrition, exercise and environmental enrichment advice.
Your Kitten's First Wellness Exam Includes:
A thorough physical exam
Dental exam
Intestinal parasite screening and intestinal parasite worming if needed
Testing for Feline Leukemia Virus (FELV) and Feline Immunodeficiency Virus (FIV)
A discussion of an appropriate vaccination schedule for your kitten, based on factors including breed, anticipated lifestyle, exposure risks and previous necessary vaccines.
Necessary vaccines or vaccine boosters
A discussion on the prevention of heartworm, fleas and ticks
Behavior and litter box training recommendations
Nutritional counseling
Pet insurance recommendations
For your first kitten visit, we request that you bring the following:
Your kitten in a cat carrier
All paperwork pertaining to the previous care of your kitten including all previous immunizations, deworming, medications and any veterinary records you may have. You may email these records to us as well.
Any questions you may have regarding your kitten's health or behavior
A fresh stool sample (less than 12 hours old)
Your kitten's first wellness exam will set the foundation for your kitten's long term health and establish a long-term beneficial health record. It also allows us to monitor any medical or behavioral conditions for your kitten.
Never Give Medication To a Kitten Unless It Was Prescribed By A Veterinarian
Most Importantly, NEVER GIVE medications without direct approval from your veterinarian. Many products that are deemed safe for humans are extremely toxic to pets and can prove to be fatal. If in doubt — Call Our Office first and ask - 973-831-2426
Please call us today to schedule your kitten's wellness exam.
Learn more about kitten care by browsing through these links:
Cats - General Health
Cat Friendly Practice
In the United States, there are millions more owned cats than owned dogs, yet cats visit veterinarians less frequently than dogs. A major reason is that it is very stressful to take cats to the veterinary practice and often owners believe their cat doesn't need routine check-ups for wellness and preventive care. The Cat Friendly Practice® (CFP) program, created by expert feline practitioners, provides a solution to this trend and provides an opportunity for veterinary practices to elevate care for cats and reduce the stress during the visit.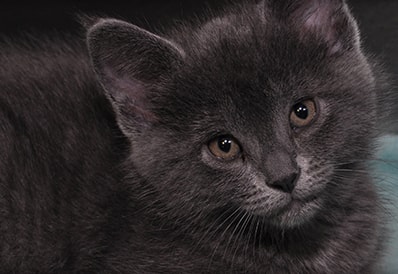 ---
---