Surgery
Tri-County Animal Hospital is equipped with state-of-the-art surgical suites and highly trained veterinarians who perform a variety of veterinary surgical procedures. Our modern surgical suite is equipped with the latest patient monitoring equipment to ensure the health and safety of your pet.
Prior to surgery, our veterinarians will perform thorough examination and conduct a pre-anesthetic blood test to evaluate the function of the internal organs. After examination, anesthetic drugs are individually selected for your pet based on the procedure, their age, breed, and health, and lifestyle.
Our Surgical Services
Surgical procedures performed at Tri-County Animal Hospital include:
Soft Tissue/General Surgery - These are surgical procedures that are not associated with bones. Common soft tissue surgeries performed: spays, neuters, foreign body retrieval (laparotomy/gastrotomy/enterotomy), mass removals, bladder stone removal (cystotomy), pyometra, splenectomy, mastectomy.
Orthopedic Surgery - Orthopedic surgery corrects musculoskeletal conditions such as degenerative joint diseases (hip dysplasia, other forms of arthritis), knee pain, joint injuries, and spinal conditions.
Please call us at (973) 831-2426 if you have any questions regarding our surgical procedures.
Cat Friendly Practice
In the United States, there are millions more owned cats than owned dogs, yet cats visit veterinarians less frequently than dogs. A major reason is that it is very stressful to take cats to the veterinary practice and often owners believe their cat doesn't need routine check-ups for wellness and preventive care. The Cat Friendly Practice® (CFP) program, created by expert feline practitioners, provides a solution to this trend and provides an opportunity for veterinary practices to elevate care for cats and reduce the stress during the visit.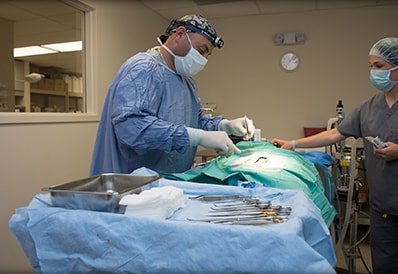 ---
---