Digital Radiology for Pets
Tri-County Animal Hospital utilizes a state-of-the-art digital x-ray unit. This allows us to instantaneously view the highest quality image for a more accurate diagnosis of your pet's condition. If necessary, radiographs are sent to a board certified radiologist with results that are typically available in less than 24 hours.
Digital radiology is used to:
Find foreign objects or materials in the body that may have been swallowed
Diagnose fractures, bone and/or joint abnormalities, in addition to an array of other injuries
Screen for abnormalities within the heart, lungs, urinary, and digestive organs
Detect some forms of cancer
The Benefits of Digital X-Rays
The image quality of a digital x-ray is much higher than a film x-ray and there is no time lost in processing the image. Because we are able to view the x-ray almost immediately we can diagnose and treat your pet rapidly. Radiation exposure to your pet is also minimized, as we use far less radiation for digital radiography. In addition, digital radiology is environmentally friendly because there are no chemicals to contaminate water systems.
Cat Friendly Practice
In the United States, there are millions more owned cats than owned dogs, yet cats visit veterinarians less frequently than dogs. A major reason is that it is very stressful to take cats to the veterinary practice and often owners believe their cat doesn't need routine check-ups for wellness and preventive care. The Cat Friendly Practice® (CFP) program, created by expert feline practitioners, provides a solution to this trend and provides an opportunity for veterinary practices to elevate care for cats and reduce the stress during the visit.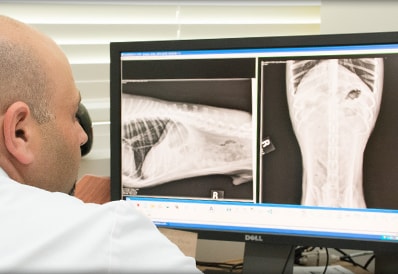 ---
---