Orthopedic Surgery
Tri-County Animal Hospital is equipped with an advanced surgical suite and utilizes a board certified surgeon who can be scheduled to perform advanced orthopedic surgeries right here at our hospital. Orthopedic surgical procedures focus on repairing the patient's bones and joints. Whether your pet is experiencing pain from a chronic joint condition or has recently suffered an injury, our veterinary surgical team can perform a variety of orthopedic procedures. With the help of our in-house laboratory and diagnostic equipment, we are able to diagnose your pet's condition, correct the condition, and provide follow-up care to improve the quality of your pet's life.
Orthopedic conditions that may require surgery include:
Cranial Cruciate Ligament Injury or Rupture (CCL)
Tibial Tuberosity Advancement (TTA)
Degenerative joint diseases such as hip dysplasia and various forms of arthritis
Knee pain
Patellar Luxations
Joint injuries
Spinal conditions or injuries
Fracture repair (Traumatic injuries such as broken bones)
Pain Management
Your pet's pain relief is important to us. Our veterinarians will develop a unique and comprehensive pain management protocol for your pet to help keep them as comfortable and pain-free as possible before, during, and after surgery. Visit our pain management page to learn more about our pain management protocols.
Cat Friendly Practice
In the United States, there are millions more owned cats than owned dogs, yet cats visit veterinarians less frequently than dogs. A major reason is that it is very stressful to take cats to the veterinary practice and often owners believe their cat doesn't need routine check-ups for wellness and preventive care. The Cat Friendly Practice® (CFP) program, created by expert feline practitioners, provides a solution to this trend and provides an opportunity for veterinary practices to elevate care for cats and reduce the stress during the visit.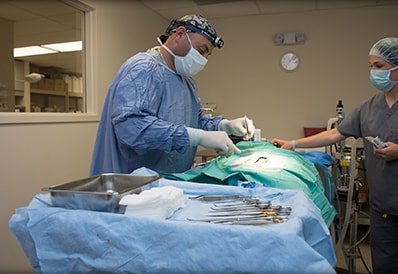 ---
---