Microchip Implantation
Gain Peace of Mind with Microchip Implantation
Microchipping is your pet's permanent ID and may be the only way to see your pet again if he or she is ever lost or stolen. At Tri-County Animal Hospital, pets can have the microchip installed quickly and easily during their annual exam. It is a simple procedure similar to a vaccination, and no anesthesia is required. If your pet was rescued from a shelter or adopted from another owner, we can also perform a quick check to see if a chip has already been implanted.
Found Pets
Veterinary clinics, animal control, animal rescues, and shelters across the United States are equipped with scanners capable of detecting and reading the microchips in the unfortunate event that your pet is lost. This gives you the best possible chance that you and your pet will be reunited.
For more information and answers to frequently asked questions about microchips, please visit the American Veterinary Medical Association (AVMA) website. The Pet Microchip Lookup is another helpful resource for locating owners of lost pets based on the microchip number that operates independently of microchip companies. For any questions on micropchipping, please call us at (973) 831-2426.
Cat Friendly Practice
In the United States, there are millions more owned cats than owned dogs, yet cats visit veterinarians less frequently than dogs. A major reason is that it is very stressful to take cats to the veterinary practice and often owners believe their cat doesn't need routine check-ups for wellness and preventive care. The Cat Friendly Practice® (CFP) program, created by expert feline practitioners, provides a solution to this trend and provides an opportunity for veterinary practices to elevate care for cats and reduce the stress during the visit.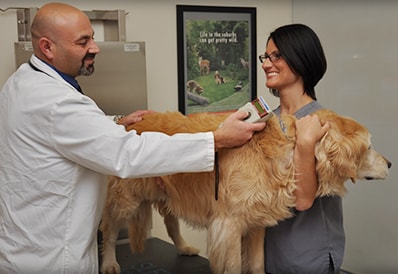 ---
---