Cardiology for Pets
Tri-County Animal Hospital provides veterinary cardiology to diagnose and treat various cardiovascular conditions in dogs and cats. Our veterinarians can treat conditions such as congestive heart failure, hypertension, dilated and hypertrophic cardiomyopathy, and valvular disorders.
Signs of cardiovascular conditions in pets include:
Coughing
Lack of appetite
Lethargy and weakness
Shortness of breath or difficulty breathing
Rapid heart rate at rest
If you suspect that your pet may be experiencing a cardiovascular condition, please call us right away to schedule an appointment.
Diagnosis and Treatment
In order to diagnose your pet's condition, we will examine his or her full medical history, and perform diagnostic testing such as blood work evaluation, chest x-rays, EKG and an echocardiogram. These tools can help us confirm the presence of an underlying heart problem and assess the severity of the condition.
Cat Friendly Practice
In the United States, there are millions more owned cats than owned dogs, yet cats visit veterinarians less frequently than dogs. A major reason is that it is very stressful to take cats to the veterinary practice and often owners believe their cat doesn't need routine check-ups for wellness and preventive care. The Cat Friendly Practice® (CFP) program, created by expert feline practitioners, provides a solution to this trend and provides an opportunity for veterinary practices to elevate care for cats and reduce the stress during the visit.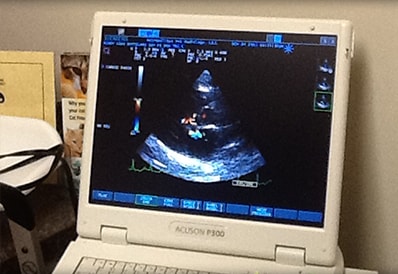 ---
---