Advanced Surgical Care
In order to alleviate the stress associated with a surgical procedure, we take every measure to ensure that your pet is safe and comfortable every step of the way. At Tri-County Animal Hospital, we are committed to providing the best pre-operative and post-operative veterinary care. We use the latest technology to ensure your pet has a positive and pain free surgical experience, and our staff will communicate with you before, during, and after your pet's procedure.
Our animal hospital provides advanced surgical veterinary procedures performed by a board-certified surgeon including:
Orthopedic Surgeries

Cranial cruciate ligament repair, TTA
Femoral Head Ostectomy (FHO)
Medial Patellar Luxation (MPL)
Fracture Repair (IM pins, Plating, external fixation)

Soft Tissue Surgery
Perineal Urethrostomy (PU)
Laryngeal Paralysis
Mass or tumor removal
Gastrointestinal surgeries
Urogenital tract exploration and repair
Repair of skin-folds, such as the eyes or tail
Corrective ear surgery (TECA)
Eye and eyelid surgeries for developmental defects and trauma
Gastropexy to prevent bloat/GDV in dogs
Pain Management
Whether your pet's surgery is planned or is a result of an emergency, we are dedicated to keeping your pet as comfortable as possible after his or her procedure. Our veterinarians will develop a unique and comprehensive pain management plan to help alleviate any discomfort following the surgery. Visit our pain management page to learn more about our pain management protocols.
Cat Friendly Practice
In the United States, there are millions more owned cats than owned dogs, yet cats visit veterinarians less frequently than dogs. A major reason is that it is very stressful to take cats to the veterinary practice and often owners believe their cat doesn't need routine check-ups for wellness and preventive care. The Cat Friendly Practice® (CFP) program, created by expert feline practitioners, provides a solution to this trend and provides an opportunity for veterinary practices to elevate care for cats and reduce the stress during the visit.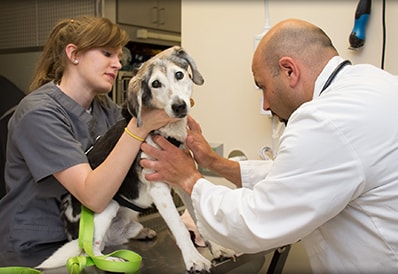 ---
---